Portable Restrooms
Serving the Central Valley with offices in Farmersville, Lemoore and Bakersfield
Potter's Porta Potties has been a division of AAA Quality Services, Inc since 1990. The entire team prides itself on providing quality sanitation for the public.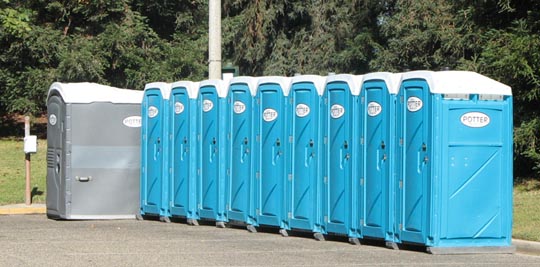 Better Work Sites, Better Weekends And a Better World
Seriously consider how our lives would be impacted without portable restrooms. Unnecessary fuel would be used to leave parks to find other restroom facilities. Permanent facilities can be costly and impact natural resources adversely, and public health is a concern to all of us.
Natural disasters are immediately followed with assistance workers, portable restrooms and water – basic necessities that we sometimes take for granted.

The Potter's team also strives to provide quality equipment to assist construction sites, agriculture sites, and special events with their basic sanitation, crowd control and storage needs.
Following is a partial list of our rentals: Basic restrooms, flushing restrooms, ADA handicap restrooms, restrooms with solar lights and inside sinks, restroom trailers with AC/Heat, hand wash sinks, hand sanitizer stations, 3 basin sink, 8 sink hot water trailer, kid-sized restrooms and baby changing stations. We also have office trailers, office container, 20 ft & 40 ft storage containers, hot and cold showers, shower trailer, temporary fencing, vehicle barricades, pedestrian barricades and ticket/guard shacks.
Contact Information
Farmersville
321 E. Noble Avenue
P.O. Box 535
Farmersville, CA 93223
559-594-4322

Lemoore
9624 Hwy 41
Lemoore, CA
559-924-0618

Bakersfield
7657 Downing Ave
Bakersfield, CA
661-588-3510

---
Email Us for Quotes or Questions
---
Download a brochure
---
Member PSAI
(Portable Sanitation Association International)