Security guard & Patrol
Serving Tulare & Kings Counties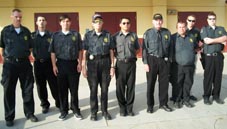 24-Hour Dispatch - Person-to-person contact is essential in providing excellent customer service. Your call is important and will be answered by a live operator anytime, any day. Local business office is open Mon-Fri 8am-5pm.
Standing Guard - Security officers are fully trained and in compliance through the State of California's Bureau of Security and Investigative Services.
Patrol Service - Reclaim security and peace of mind. Patrol officers take the time to inspect your doors and stop in to check on employees who are working late. We can provide your business property with the best security protection services available. The extra effort taken by our highly visible patrol drivers makes the difference. A complete security patrol program can be designed to meet your company's security needs.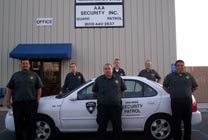 Specializing in:
Alarm Response -It's four o' clock in the morning. You just received a call from the police dispatcher. Your alarm system has been activated and as the key holder for your company you must respond. Or you can have AAA Security act as your representative and respond to both burglar and fire alarms with experienced patrol officers. Our 24-hour dispatch center is staffed with trained operators who keep in constant contact with our security patrol vehicles via two-way radios. Let us respond to your alarm and save you possible false alarm fees.
Special Events - Whether it is a wedding, dance, quinceanera, birthday, sporting or media event, special events often call for unique security services. Leave the security and safety of your event and guests to us, so your focus can be on where it needs to be, your special day.
Construction Sites - Deter theft and vandalism with a security guard or random patrol checks.
Commercial Applications - Fire watch, facility access control, and asset protection are just a few of the reasons for having security guards at your facility.
Agriculture - Our valley feeds the world. Unfortunately, unauthorized "night crews" can be a problem for farmers and ranchers. Give us a call for solutions for your unique application.